Real estate in Bhubaneswar is perhaps one of the most vibrant and ever growing sectors of the country with seemingly limitless opportunities. Bhubaneswar figures in the list of one of the real estate markets every global consultant of repute recommends to invest. If anyone had doubts about Bhubaneswar being a boom city, they can check the National Housing Bank's Residex index. The index for Bhubaneswar leapt up by 60 per cent in the last 3 years. This is the highest jump for any city for the period.
Graph Indicating the Index: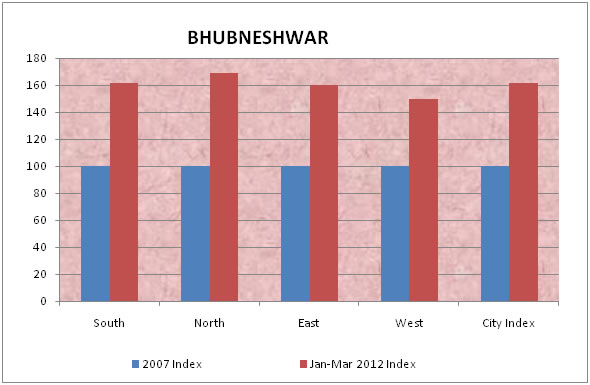 Exponential results for the Duplex, Plots in Bhubaneswar in mere 5 years of time -The people who responded, to the "Plots for sale at Bhubaneswar @year 2007-08″ had strike the gold with their investment in 2011. Now, in the year 2011, we are glad to announce 12 nos of ploting projects, 2nos of duplex for sale in Bhubaneswar.
Neelachal Builders Private Limited offer services of dedicated executives who can assist you in buying the plot of your choice across Bhubaneswar and Cuttack. They can plan your visit to the site at your convenient time schedules. Their expertise, knowledge, and dedication in real estate arena are commendable.
The executives and consultants of Neelachal Builders Private Limited provide accurate, up-to-date information and promotional materials available for all the layouts of all our sites. They can provide the relevant information on the establishments and developmental Estates that are emerging in the vicinity of the venture.